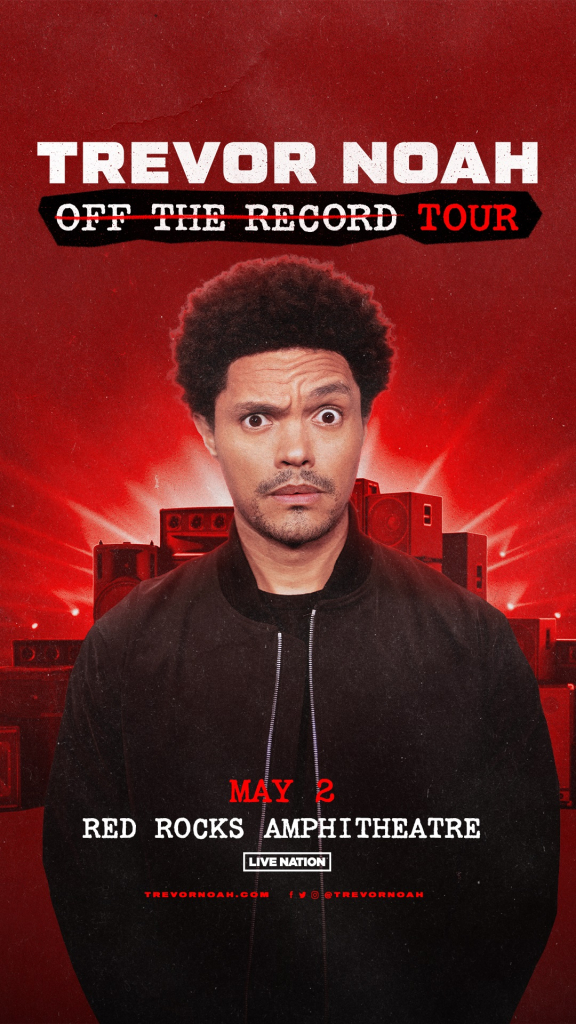 Trevor Noah is one of the most successful comedians in the world and was the host of the Emmy® Award-winning "The Daily Show" on Comedy Central for seven years is coming to Red Rocks.
Trevor is the author of the #1 New York Times bestseller "Born a Crime: Stories from a South African Childhood" and will also be hosting an original Spotify weekly podcast titled What Now? With Trevor Noah. Launching in early 2024, Trevor is also set to host Amazon Prime Video's first South African original, "LOL: Last One Laughing." The six-part unscripted comedy series will see Trevor pit 10 famous South African comedians and entertainers against one another to see who can keep a straight face while simultaneously trying to make their opponents laugh – and lose.
Trevor's success has also spanned to sold out stand-up comedy shows over 5 continents. His current "Off The Record" World Tour stops in 28 cities across the US, before heading for international destinations. Trevor has written, produced, and starred in 12 comedy specials, including Emmy-nominated "I Wish You Would," his third for Netflix.
In 2018, Noah launched the Trevor Noah Foundation to improve equitable access to quality education for underserved youth in South Africa. Noah's vision is a world where education enables youth to dream, see and build the impossible.
WHEN
May 2, 2024 8:00 pm – May 2, 2024 11:00 pm
VENUE
Red Rocks Amphitheatre
18300 W Alameda Pkwy, Morrison, CO 80465
Red Rocks Amphitheatre is a rock structure near Morrison, Colorado, 10 miles west of Denver, where concerts are given in the open-air amphitheatre