Danny Zelisko Presents and Paramount Theatre are proud to welcome The Musical Box – tribute band to English Rock legends, Genesis. The Musical Box will be performing Genesis' fifth studio album, Selling England by the Pound on its 50th anniversary. Come see the 1973 show in painstaking detail and wonderment on Friday, December 8th.

About The Musical Box:
50 years ago, Genesis released Selling England by The Pound and changed Rock History. It's 1973 – Peter Gabriel's famous theatrics and Genesis' musical apex produced some of the most iconic images and sounds of the '70s, enjoying to this day a cult following. In its quest for authenticity, The Musical Box is cited as the best interpretation group in the world and the international reference for early Genesis. A Timeless Classic, The Musical Box, have shared the stage with Phil Collins and Steve Hackett as performing guests and have been acclaimed by more than a million spectators in some of the most prestigious venues in the world such as London's, Royal Albert Hall, and Paris' Olympia. Get ready to rock as The Musical Box performs the illustrative 1973 show in meticulous detail – starting this Fall 2023.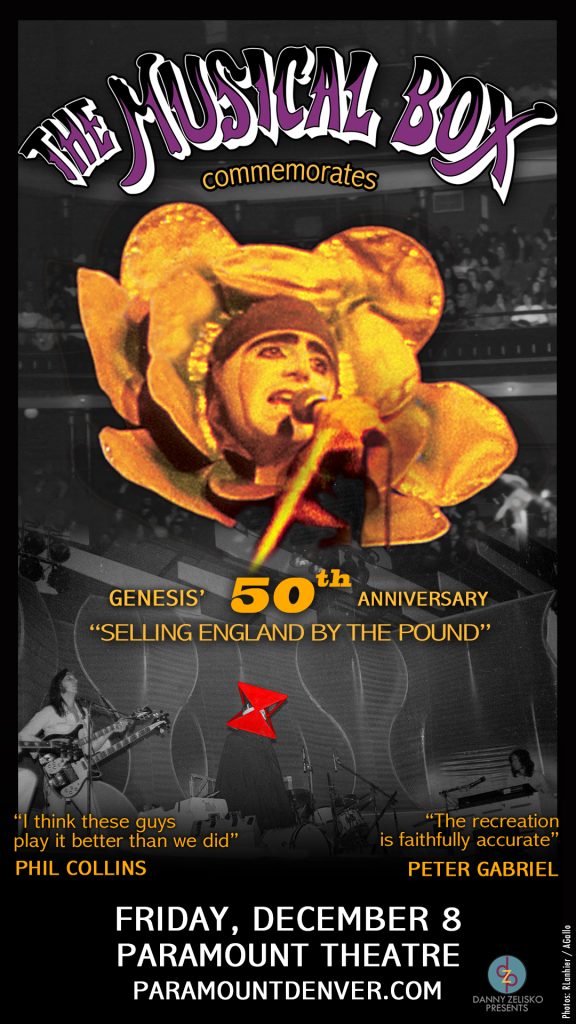 WHEN
December 8, 2023 8:00 pm – December 8, 2023 11:00 pm
VENUE
Paramount Theatre
1621 Glenarm Pl, Denver, CO 80202
The Paramount Theatre is a concert venue in Denver, Colorado, located on Glenarm Place, near Denver's famous 16th Street Mall.