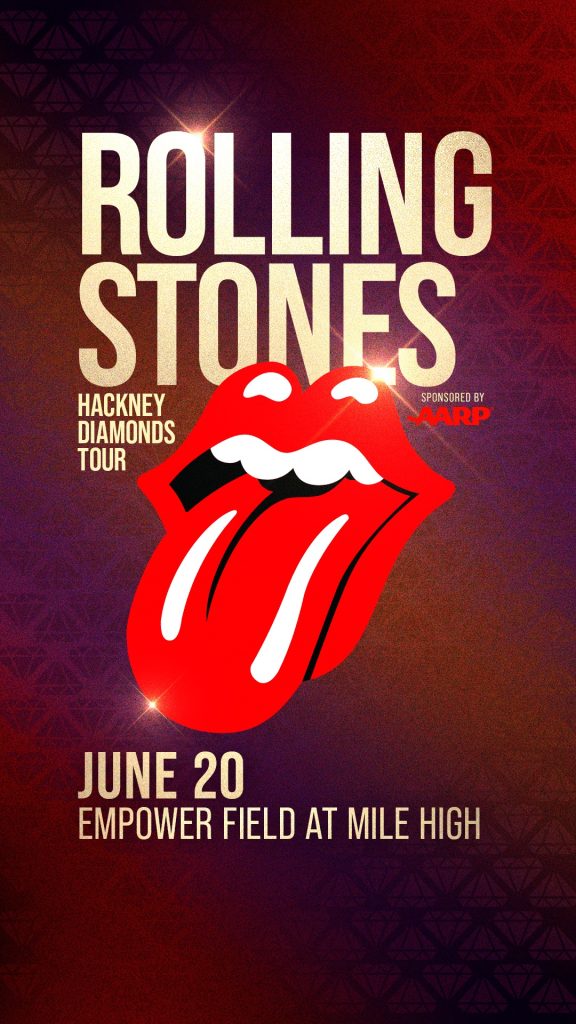 Presale : Thurs, November 30 10a-10p MST
Password: HACKNEY
On sale : Fri, December 1 at 10am
Rolling Stones
Stones '24 | The Hackney Diamonds Tour
June 20, 2024
Empower Field at Mile High
The Rolling Stones have been teasing a possible 2024 tour with fans by showcasing their logo around the world.
The iconic rock band – now comprised of Mick Jagger, Keith Richards and Ronnie Wood – have been teasing an upcoming announcement over the weekend with a variety of cryptic posts.
This comes as fans have noticed their famous tongue and lips logo popping up in public. For instance, in Denver, a giant red and black banner appeared showing the band's signage displayed at the Empower Field at Mile High – home to the NFL's Broncos. – NME
In a press release: Today, The Rolling Stones have announced they are going back on the road with a brand-new tour performing in 16 cities across the U.S. and Canada, stopping in Denver, CO on June 20, 2024 at Empower Field at Mile High. Fans can expect to experience Mick, Keith and Ronnie play their most popular hits ranging from "Start Me Up," "Gimme Shelter," "Jumpin' Jack Flash," "Satisfaction" and more, as well as fan favorite deep cuts and music from their new album HACKNEY DIAMONDS. The legendary rockers will be returning to the road following the success of their history-making and chart-topping studio album HACKNEY DIAMONDS, which has just received a Grammy nomination for the project's lead single "Angry." Showcasing a new stage and high energy that only the Stones can bring as one of the world's most iconic artists ever, this tour will guarantee a show to remember.
WHEN
June 20, 2024 7:00 pm – June 20, 2024 11:00 pm
VENUE
Empower Field at Mile High
1701 Mile High Stadium Circle, Denver, CO 80204
Sports & Concert Venue