After more than half a century of criss-crossing the globe to spread the warm smell of colitas, the Eagles announced the dates for their final tour on Thursday (July 6). Dubbed "The Long Goodbye," the trek will feature fellow Rock and Roll Hall of famers Steely Dan opening up the shows, which are slated to kick off on Sept. 7 at Madison Square Garden in New York.
"The Eagles have had a miraculous 52-year odyssey, performing for people all over the globe; keeping the music alive in the face of tragic losses, upheavals and setbacks of many kinds," read a statement from the group. "Credit and thanks go to our longtime management team, our dedicated road crew, and our exceptional backup musicians for providing skilled and steadfast support, throughout these many years. We know how fortunate we are, and we are truly grateful."
At press time only the first 13 dates had been announced, with tickets slated to go on sale on July 14 at 10 a.m. local time for the tour that will feature Don Henley, Joe Walsh, Timothy B. Schmit as well as Vince Gill and Deacon Frey playing "as many shows in each market as their audience demands," according to the statement; the tour is expected to run into 2025. Country Music Hall of Fame member Gill began playing with the Eagles in 2017 alongside Deacon, son of late Eagles guitarist Glenn Frey, who died in 2016.
"Our long run has lasted far longer than any of us ever dreamed. But, everything has its time, and the time has come for us to close the circle," the band continued in its announcement, noting that the farewell run is still in the planning stages, with more dates to be announced at a later time. "We want to give all our fans a chance to see us on this final round… The difficulties of booking venues for multiple nights may require us to return to certain cities, depending on demand. But, we hope to see as many of you as we can, before we finish up. Most importantly, we thank you from the bottom of our hearts for embracing this band and its music. At the end of the day, you are the reason we have been able to carry on for over five decades. This is our swan song, but the music goes on and on." – Billboard
The Eagles "Final Tour, The Long Goodbye" will be coming to Denver's Ball Arena October 5th with special guest Steely Dan!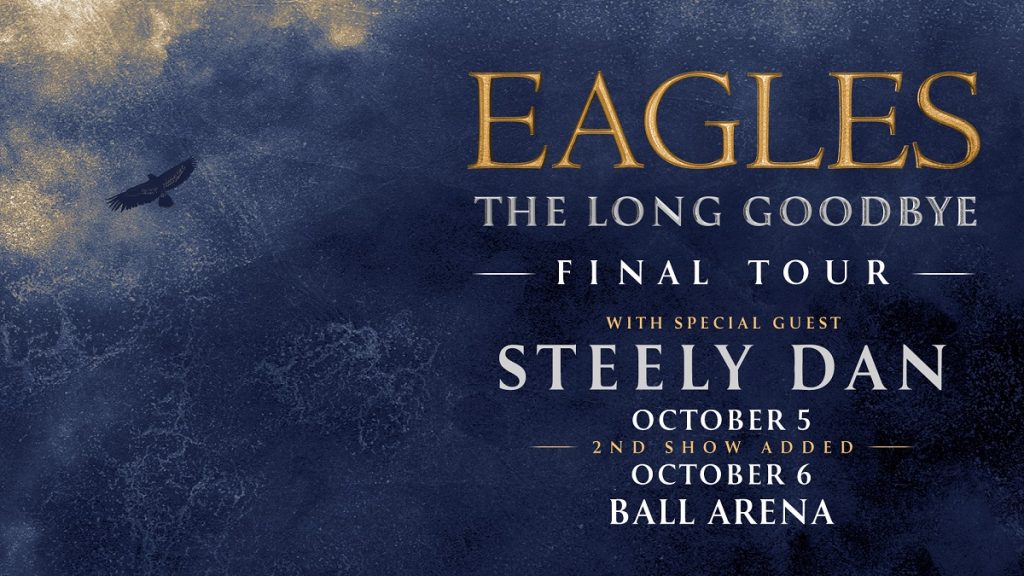 WHEN
October 5, 2023 7:00 pm – October 5, 2023 11:00 pm
VENUE
Ball Arena
1000 Chopper Cir, Denver, CO 80204
FAST FACTS
Cost more than $180 million in private funds to build across 21 months
Site Acreage: 45 acres
Square Footage: 675,000
Opened October 1, 1999 with Celine Dion in concert
The Grand Atrium sculpture weighs 2,000 pounds, cost $75,000 and is 1.5 times life size
It takes over 1,000 staff members to run an event
Owned and operated by Kroenke Sports & Entertainment
SEATING AT BALL ARENA
Concerts: 20,000+ depending on stage configuration
Basketball: 19,520
Hockey: 17,809
Lacrosse: 17,809
Special Events: 21,000
Suites: 95 luxury suites that can accommodate 12 – 16 people
COLORADO AVALANCHE 
There are 149 panes of .5″ thick glass that surround the hockey rink, weighing between 50 and 250 pounds apiece. It takes 2 forklifts and 8 people 45 minutes to "hang" the entire rink.
Each net hung on the ends of the rink has a lifespan of only 33 games.
For other events in the building, the ice is covered with approximately 600 pieces of a 1″ thick fiberglass board.
DENVER NUGGETS 
Cost of the basketball court is $105,000.00.
Each basketball stanchion weighs approximately 3,300 pounds and is anchored into the basketball floor to prevent it from being tipped over.
Each net on the basketball goals is replaced every 5 games or as needed.
There are 233 pieces to the basketball floor – each weighing approximately 185 pounds. The total weight of the entire basketball floor is 41,625 pounds.
COLORADO MAMMOTH  
The Mammoth carpet consists of 14 – 15′ wide rolls of Astroturf and is .75″ thick.
It takes 12 people only 25 minutes to lay the field.
VENUE MANAGEMENT 
Denver-based Kroenke Sports & Entertainment is one of the world's leading ownership, entertainment and management groups.  As owners and operators of Ball Arena, Paramount Theatre, Dick's Sporting Goods Park, the Denver Nuggets (NBA), Colorado Avalanche (NHL), Colorado Mammoth (NLL) and Colorado Rapids (MLS), KSE's sports and entertainment assets are second to none. Additional properties under the KSE umbrella include Altitude Sports & Entertainment, a 24-hour regional television network and Altitude Authentics, the company's official retail provider.