Depeche Mode has confirmed the release date of its eagerly anticipated new album, Memento Mori, which will be released March 24 via Columbia Records.
Memento Mori's arrival is heralded by today's release of first single "Ghosts Again." Having been stealthily previewed in Berlin in October at the Memento Mori launch event, "Ghosts Again" is nothing short of classic Depeche Mode: Evocative Dave Gahan lyrical imagery including "wasted feelings, broken meanings… a place to hide the tears we cry" and a hypnotic Martin Gore guitar figure atop an uplifting, optimistic groove. "Ghosts Again" is available now across digital platforms, and as an instant grab with pre-saves and pre-orders of Memento Mori – which is available for pre-order now on 2LP vinyl, CD, cassette, and digital."To me, 'Ghosts Again' just captures this perfect balance of melancholy and joy," commented Gahan. Gore added, "It's not often that we record a song that I just don't get sick of listening to – I'm excited to be able to share it."
Depeche Mode will be in Denver on November 16th, 2023 at Ball Arena.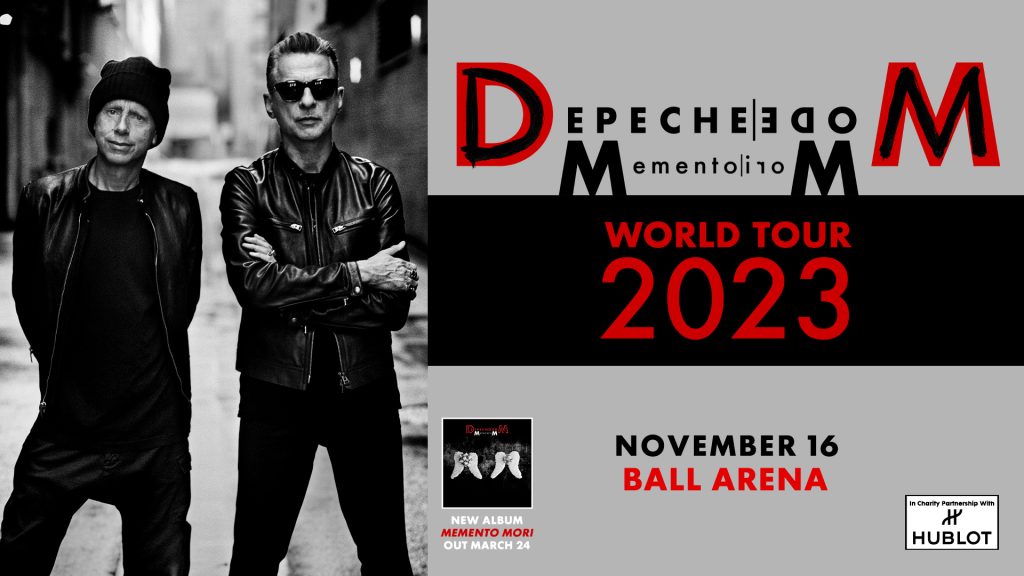 WHEN
November 16, 2023 7:00 pm – November 16, 2023 11:00 pm
VENUE
Ball Arena
1000 Chopper Cir, Denver, CO 80204
FAST FACTS
Cost more than $180 million in private funds to build across 21 months
Site Acreage: 45 acres
Square Footage: 675,000
Opened October 1, 1999 with Celine Dion in concert
The Grand Atrium sculpture weighs 2,000 pounds, cost $75,000 and is 1.5 times life size
It takes over 1,000 staff members to run an event
Owned and operated by Kroenke Sports & Entertainment
SEATING AT BALL ARENA
Concerts: 20,000+ depending on stage configuration
Basketball: 19,520
Hockey: 17,809
Lacrosse: 17,809
Special Events: 21,000
Suites: 95 luxury suites that can accommodate 12 – 16 people
COLORADO AVALANCHE 
There are 149 panes of .5″ thick glass that surround the hockey rink, weighing between 50 and 250 pounds apiece. It takes 2 forklifts and 8 people 45 minutes to "hang" the entire rink.
Each net hung on the ends of the rink has a lifespan of only 33 games.
For other events in the building, the ice is covered with approximately 600 pieces of a 1″ thick fiberglass board.
DENVER NUGGETS 
Cost of the basketball court is $105,000.00.
Each basketball stanchion weighs approximately 3,300 pounds and is anchored into the basketball floor to prevent it from being tipped over.
Each net on the basketball goals is replaced every 5 games or as needed.
There are 233 pieces to the basketball floor – each weighing approximately 185 pounds. The total weight of the entire basketball floor is 41,625 pounds.
COLORADO MAMMOTH  
The Mammoth carpet consists of 14 – 15′ wide rolls of Astroturf and is .75″ thick.
It takes 12 people only 25 minutes to lay the field.
VENUE MANAGEMENT 
Denver-based Kroenke Sports & Entertainment is one of the world's leading ownership, entertainment and management groups.  As owners and operators of Ball Arena, Paramount Theatre, Dick's Sporting Goods Park, the Denver Nuggets (NBA), Colorado Avalanche (NHL), Colorado Mammoth (NLL) and Colorado Rapids (MLS), KSE's sports and entertainment assets are second to none. Additional properties under the KSE umbrella include Altitude Sports & Entertainment, a 24-hour regional television network and Altitude Authentics, the company's official retail provider.